Posts from 'Uncategorized'
Although this website has quite low traffic at the moment in comparison to some other blogs in this niche, I have some quite big plans for it, which will hopefully generate quite a large amount of traffic.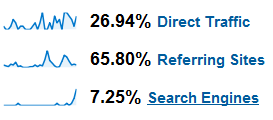 I have a simple plan to getting traffic and growing the site, which I am going to make a blog post about soon, there are a few hint's of the technique within this post. In my head are quite a few milestones that will let me quickly see how close I am to my targets. From the image at the right you can see I have achieved the first one, which was what I consider organic traffic, specifically the "search engine" traffic which you can see has just started.
The easiest way to think of organic traffic, is first define what it isn't. Continue reading "Google has landed." »