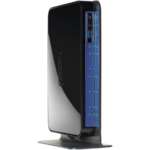 I have already done a post about getting telnet access on to your DGND3700 netgear router, however you can also play around with some settings via hidden web pages. Below is an extract of all the web pages on the device for you to play around with, some you will have seen before like the normal setup pages, others are unique and only there normally for Netgear staff/developers/support.
Probably the most common one that people would want to tweek is WiFi_HiddenPage.htm
To view the pages, login to your device as normal, for example via http://192.168.0.1
Then just append the file name you want to view, http://192.168.0.1/WiFi_HiddenPage.htm
Click the more button to see the full list; and just to note I am fairly sure this would probably affect your warranty status, only play around if you don't mind having a bricked and unsupported router!
Add_WPS_Client.htm
Adv_USB.htm
Adv_USB_h.htm
BAK_backup.htm
BAK_backup_h.htm
BAK_cfm.htm
BAS_basic.htm
BAS_basictop.htm
BAS_detwan.htm
BAS_dsl.htm
BAS_dsl_h.htm
BAS_ether.htm
BAS_ether_h.htm
BAS_pppoa.htm
BAS_pppoa_h.htm
BAS_pppoe.htm
BAS_pppoe_h.htm
BAS_wtest_d.htm
BAS_wtest_l.htm
BKS_err.htm
BKS_keyword.htm
BKS_keyword_h.htm
BKS_service.htm
BKS_service_add.htm
BKS_service_add_h.htm
BKS_service_edit.htm
BKS_service_h.htm
BSW_basicsetting.htm
BSW_basicsetting2.htm
BSW_blank.htm
BSW_blank2.htm
BSW_close.htm
BSW_cxttongr.htm
BSW_det_fix.htm
BSW_det_internet.htm
BSW_det_pppoe.htm
BSW_detwan.htm
BSW_dhcp.htm
BSW_dns.htm
BSW_dyn.htm
BSW_fail.htm
BSW_fix.htm
BSW_menu.htm
BSW_menu2.htm
BSW_menu3.htm
BSW_pppoe.htm
BSW_reboot.htm
BSW_region.htm
BSW_ssid.htm
BSW_success.htm
BSW_top.htm
BSW_welcome.htm
BSW_wl_mode.htm
BSW_wsw_ask_wep.htm
BSW_wsw_invalid_wep.htm
BSW_wsw_manual_wep.htm
BSW_wsw_option.htm
BSW_wsw_passwd.htm
BSW_wsw_passwd_edit.htm
BSW_wsw_setup.htm
BSW_wsw_summary.htm
BSW_wsw_wep.htm
BSW_wsw_wepkey.htm
BSW_wsw_wpa2psk.htm
BSW_wsw_wpapsk.htm
CheckNewFW.html
DEV_device.htm
DEV_device_h.htm
DIAG_diag.htm
DIAG_diag_h.htm
DIAG_ping.htm
DIAG_rt.htm
DIG_reboot.htm
DIG_reboot2.htm
DIG_reboot3.htm
DIG_reboot4.htm
DIG_reboot_pgbar.htm
DIG_update.htm
DIG_update_transfer_mode.htm
DIG_update_vpn.htm
DLNA_dlna.htm
DLNA_dlna_h.htm
DNS_ddns.htm
DNS_ddns_h.htm
DNS_ddns_st.htm
FW_check.htm
FW_email.htm
FW_email_h.htm
FW_forward.htm
FW_forward_h.htm
FW_forward_service.htm
FW_forward_service_h.htm
FW_log.htm
FW_log_h.htm
FW_pt.htm
FW_pt_h.htm
FW_pt_service.htm
FW_remote.htm
FW_remote_h.htm
FW_schedule.htm
FW_schedule_h.htm
IA_IP_SUBNET.htm
LANG_brs_conflict.htm
LANG_brs_conflict_h.htm
LANG_check.htm
LANG_check_brslang.htm
LANG_check_top.htm
LANG_download.htm
LANG_failed.htm
LANG_found.htm
LANG_lang.htm
LANG_lang_h.htm
LANG_no_connection.htm
LANG_not_found.htm
LANG_upgrade.htm
LANG_write.htm
LAN_lan.htm
LAN_lan_h.htm
LAN_reserv_add.htm
LAN_reserv_add_h.htm
LAN_reserv_edit.htm
LAN_reserv_edit_h.htm
LGO_logout.htm
MNU_access_failure.htm
MNU_access_unauthorized.htm
MNU_blank.htm
MNU_login.htm
MNU_menu.htm
MNU_menu_no_link.htm
MNU_top.htm
NoInternet.html
NoInternetConn.html
POT.htm
PWD_passwd_h.htm
PWD_password.htm
QOS_check_uplink_band_width.htm
QOS_main.htm
QOS_main_h.htm
QOS_ruletab.htm
QOS_service.htm
RST_interval.htm
RST_st_dhcp.htm
RST_st_fix.htm
RST_st_ipoa.htm
RST_st_poe.htm
RST_st_ppa.htm
RST_statistics.htm
RST_stattbl.htm
RST_status.htm
RST_status_h.htm
RST_wanstat.htm
SRV_response.htm
STR_add.htm
STR_routes.htm
STR_routes_h.htm
StringTableUpload.html
UPG_fw_check.htm
UPG_upgrade.htm
UPG_upgrade_boot.htm
UPG_upgrade_h.htm
UPNP_upnp.htm
UPNP_upnp_h.htm
USB_adv.htm
USB_adv_add.htm
USB_adv_edit.htm
USB_adv_h.htm
USB_adv_main.htm
USB_basic.htm
USB_basic_h.htm
USB_basic_main.htm
USB_folderBrowse.htm
USB_settings.htm
USB_settings_h.htm
USB_umount.htm
VER_check.htm
VER_check_h.htm
VER_download.htm
VER_download_h.htm
VER_fw_found.htm
VER_fw_not_found.htm
VER_fwlang_found.htm
VER_result_h.htm
VER_sel.htm
VER_sel_h.htm
VER_write.htm
VER_write2.htm
VER_write_h.htm
VPN_Auto_policy.htm
VPN_Auto_policy_h.htm
VPN_Consortium.htm
VPN_Manual_policy.htm
VPN_Manual_policy_h.htm
VPN_policies.htm
VPN_policies_h.htm
VPN_sta.htm
VPN_status.htm
VPN_status_h.htm
VPN_wizard.htm
VPN_wizard_h.htm
VPN_wizard_setup1.htm
VPN_wizard_setup2.htm
VPN_wizard_setup3.htm
VPN_wizard_setup4.htm
WAN_wan.htm
WAN_wan_h.htm
WIZ_cfm.htm
WIZ_cfm_h.htm
WIZ_det_fix.htm
WIZ_det_fix_h.htm
WIZ_detwan.htm
WIZ_dyn.htm
WIZ_dyn_h.htm
WIZ_fix.htm
WIZ_fix_h.htm
WIZ_passwd.htm
WIZ_ph_fail.htm
WIZ_ph_fail_h.htm
WIZ_pppoa.htm
WIZ_pppoa_h.htm
WIZ_pppoe.htm
WIZ_pppoe_h.htm
WIZ_result.htm
WIZ_sel.htm
WIZ_sel2.htm
WIZ_sel_h.htm
WIZ_sel_refresh_top.htm
WIZ_static.htm
WLG_2g_wireless1.htm
WLG_2g_wireless2.htm
WLG_2g_wireless3.htm
WLG_5g_wireless1.htm
WLG_5g_wireless2.htm
WLG_5g_wireless3.htm
WLG_acl.htm
WLG_acl_add.htm
WLG_acl_add_h.htm
WLG_acl_edit.htm
WLG_acl_h.htm
WLG_adv.htm
WLG_adv_h.htm
WLG_wds.htm
WLG_wds_h.htm
WLG_wireless.htm
WLG_wireless1.htm
WLG_wireless1_2.htm
WLG_wireless2.htm
WLG_wireless2_2.htm
WLG_wireless3.htm
WLG_wireless3_2.htm
WLG_wireless4_2.htm
WLG_wireless_2.htm
WLG_wireless_2_h.htm
WLG_wireless_h.htm
WPS.htm
WPS_Add_Client.htm
WPS_Add_Client_FAIL_Cancel.htm
WPS_Add_Client_FAIL_Cancel_Change.htm
WPS_Add_Client_FAIL_ErrorPIN.htm
WPS_Add_Client_FAIL_PBC_Conflict.htm
WPS_Add_Client_FAIL_PBC_Conflict_Change.htm
WPS_Add_Client_FAIL_PIN.htm
WPS_Add_Client_FAIL_PIN_Change.htm
WPS_Add_Client_FAIL_Timeout.htm
WPS_Add_Client_FAIL_Timeout_Change.htm
WPS_Add_Client_OK.htm
WPS_Add_Client_OK_Change.htm
WPS_Add_Client_PBC.htm
WPS_Add_Client_PIN.htm
WPS_PIN.htm
WPS_h.htm
WiFi_HiddenPage.htm
assistantpage.htm
backpage.htm
backpage2.htm
basicsetting.htm
bsw_start.htm
currentsetting.htm
debuginfo.htm
important_update.htm
index.htm
router-info.htm
start.htm
start_update.htm
traffic_important_update.htm
traffic_interval.htm
traffic_meter.htm
traffic_meter_h.htm
traffic_start_update.htm
traffic_stattbl.htm
traffic_status.htm
traffic_warning.htm
welcome.htm
CheckNewFW.html
NoInternet.html
NoInternetConn.html
StringTableUpload.html